The Client
FanDuel are the market leading sports betting operator in the newly regulated US. They have a portfolio of leading brands across gaming, sports betting, daily fantasy sports, advance-deposit wagering, and TV/media, including FanDuel, Betfair US, DRAFT, and TVG. FanDuel Group has a presence across 45 states and 8 million customers. 
SportCaller started working with FanDuel for March Madness in 2019 and the Sports Equinox game in October was our 5th rollout with the group.
Game Objectives
The game was built solely as a high profile acquisition campaign based around the unusual Sports Equinox, when all of the 4 main US sports take place on the same day. 
A sports equinox occurs on a rare occasion when the NFL, MLB, NHL and NBA each schedule play on the same day. Prior to this event, the equinox only took place 18 other times in U.S. professional sports history.
The Free-to-Play Solution
26 games were scheduled across the 4 sports on Sunday 27th October, the Free-to-Play game simply asked players to pick the winner of each of the matches. Any players with at least 20 from 26 would share the jackpot.
The jackpot started at $250k but was boosted based on the results of sporting fixtures (and the number of players acquired) in the week leading up to the game to a massive $500k.
Favourable sporting results meant that more than 30,000 users correctly picked at least 20 of 26 results, earning an equal share of a $500,000 prize pool – a further 30,000 had 19 from 26 and 2 players even managed to go 26 from 26.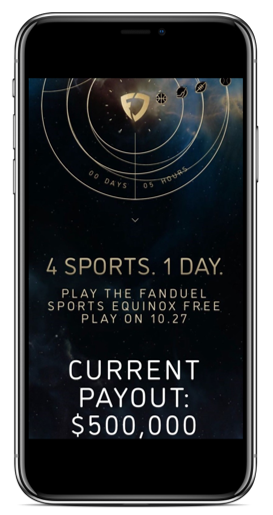 Game Promotion
As this was our 5th game with FanDuel, they had full confidence in the stability of the platform and launched their first ever countrywide FTP game. Players were given the choice to register, or sign in, on either of FanDuel DFS and Sportsbook sites.
In turn they threw their full marketing armory at it with a bespoke microsite, ATL TV ads, Barstool Sports live show takeover, a roving Sports Equinox choir appearing at sports venues, and a billboard in Times Square.
Sportsbook or DFS – Dual Registration or Login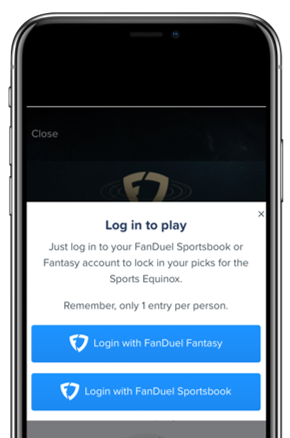 "We did try to structure it so a great number of people had winning experiences, I would certainly be happy if it worked out next year to have another one."