Award Winning
We used Beat The Drop as an entry for the industry leading EGR B2B Awards in 2019 and very happily won the award for Innovation in Sports Betting Software, with the judge's comments as below:
"Genius. Not seen a better way of engaging casual non-sports bettors in last few years. In highly-regulated environments, fresh acquisition tools are a must."
The Client
Paddy Power is part of Flutter Entertainment plc, which is an international sports betting and gaming operator listed on both the London and Irish Stock Exchanges.
SportCaller started working with Paddy Power in August 2016, running the Free-to-Play game Hotshot Jackpot for two seasons.
Game Objectives
The concept was long held within the group's innovation team but the difficulties in finding space on a highly congested roadmap meant that it luckily landed with SportCaller.
The aim was to bring an entirely new concept to life in time for the Russia World Cup 2018, which would be used as Paddy Power's headline offer for the competition. 
Beat The Drop – World Cup 2018
Beat The Drop launched in June 2018, bringing a completely new game and promotional mechanic to the industry. The game was pitched as Paddy Power's leading World Cup 2018 acquisition campaign, supported by ATL TV ads and media inventory.
Every customer, new and existing, was given £1m with 20 questions to work through, best explained in the video below.
The results of the camaign were instant and unexpected, smashing all targets for the game just one week into the tournament.
An Ongoing Promotional Tool
The game continued to run post World Cup but was relaunched with a new promotional mechanic in October of that year, offering all players unlimited free entries for 30 days for a £1k pot on each play. This promotion is still running 18 months after it's introduction.
"…continuing to offer innovative promotional products, such as 'Beat The Drop', to acquire recreational customers at lower costs."
Group Wide Product Expansion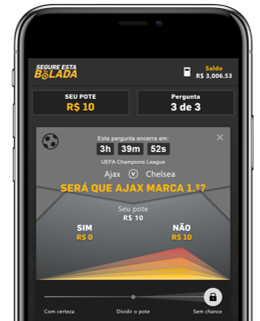 Betfair – Local & International
Betfair run a version of the game for the local UK & Ireland market but also as a go to market tool in new International territories. 

To date they have launched localised versions, with local content and languages, in Germany and Brazil (image shown), with further versions to follow in the coming months.
TVG – Cash Keeper
SportCaller have been working with TVG since 2017, running two games in Super 8 and Super 5. In March 2019 they started running their own custom version of Beat The Drop in Cash Keeper. 
The difference in this game is that it asks questions across a weekend's racing, with users prompted to come back on to their site with push messages as the questions are asked.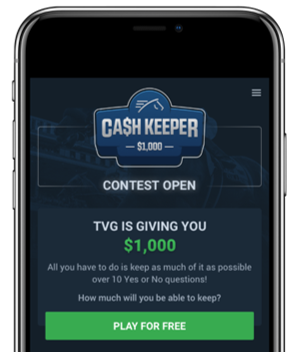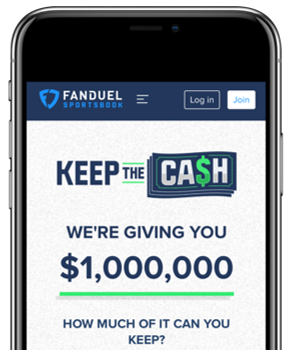 FanDuel – Keep The Cash
We started working with FanDuel for March Madness in 2019 and by the start of the NFL season this was our 5th product launch with them.
Their version was much closer to the original inception of the game in offering all players a $1m pot and 20 questions, the difference however is that all players were given unlimited free entries throughout the NFL season.