The SportCaller-developed game, Smashville Selector, helps deepen fan engagement as Bally's are appointed sports betting and Free-to-Play (FTP) partner for the Predators
The Predators-Bally's partnership also makes Bally's the official partner for the Predators home stadium, the Bridgestone Arena, and will run until 2025. It is Bally's first collaboration with an NHL franchise, in addition to being their first partnership with a major league sports team in the Nashville area.
Smashville Selector is a traditional predictor style Free-to-Play game, with only five questions per round. The questions are pre-game predictions, which lock just before the puck is dropped for each Predators' home game, and they are tailored around the game outcomes that the fans most want to engage with.
The short question number and straightforward nature of questions provide players with a relatively good chance of predicting correct game outcomes weekly. This FTP model is very sustainable because no large cash prizes or jackpots are offered through the game. Instead, more unique, guaranteed prizes are won each week, such as signed Predators merch and VIP suite experiences – with a special grand prize for the player who tops the leaderboard at the end of the regular hockey season.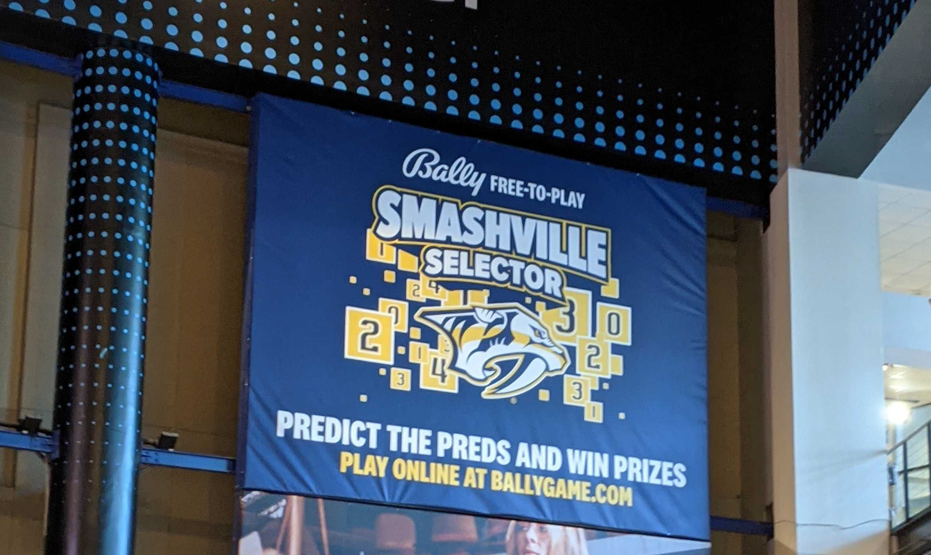 In-stadium banner for Smashville Selector at the Bridgestone Arena
Smashville Selector is the latest offering in Bally's product line from SportCaller, following this summer's release of the SportCaller-developed FTP Bally Sports Trivia app. It is currently available to play as a web-based game.
This collaboration also aligns nicely with the broadcasting rights to Predators games on Bally Sports South (regional television network).
Adi Dhandhania, COO of Bally Interactive, the company's digital division, stated: "The Nashville Predators occupy a special place in sports fans' hearts across Tennessee and their Bridgestone Arena provides a unique and electric atmosphere. It will be a great venue in which to market our brand, especially when combined with Predators game broadcasts on Bally Sports South."